2017 – 3rd Sutton Coldfield International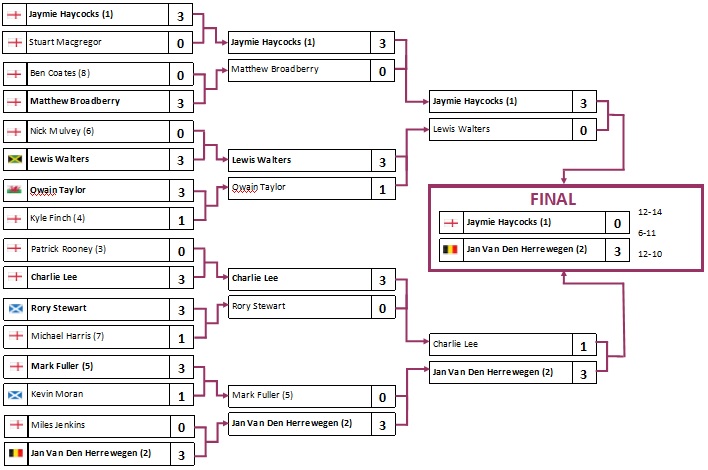 Building on the success of previous tournaments, 2017 would see the 3rd Aston & Fincher Sutton Coldfield International competition. It didn't disappoint in providing once again brilliant world class squash and the opportunity for members Marcus Hayes, Andy Murray, Nigel Stephens and Keiran Mullis to join pre-qualification with Marcus making it to the final 32.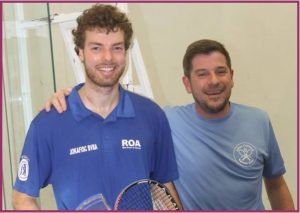 Jan Van Den Herrewegen is presented his 3rd Sutton Coldfield International winners trophy by sponsor Ollie Fincher
To supplement the competition a members afternoon tournament was played, followed by an exhibition match between Sarah-Jane Perry, Stuart Macgregor and our Marcus Hayes. SJ put the lads to the test winning the exhibition match with some close and entreating games. Games were streamed and supplemented with electronic scoring.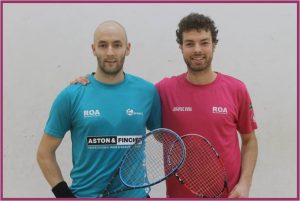 Finalists Jaymie Haycocks and Jan Van Den Herrewegen
Round 1 produced some great squash including victories from unseeded players including Matthew Broadberry, up and coming Charlie Lee who went on to play in the Semi Finals, South African Lewis Walters who also made it to the semi finals and Scotland's Rory Stewart.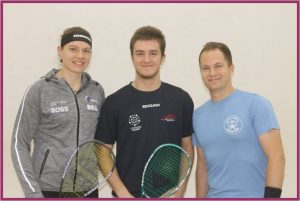 Sarah-Jane Perry, Stuart Macgregor & Marcus Hayes
The final was the much awaited meeting of 2 times winner Jan Van Den Herrewegen against club number 1, Jaymie Haycocks. The first game set the pace with a hard fought battle with at times acrobatic performance from Jan who won 14-12. Jan won the second and a 10-10 tie in the 3rd was too much for Jaymie so Jan again continued his unbeaten form securing his 3rd win.
Main Court Video Footage
Click below for the video footage recorded on the main court for each day.
Day 6- Exhibition Match and Final 
2016 2nd Sutton Coldfield International
The second Aston and Fincher $5000 PSA international had high expectations to be as good as the inaugural 2015 competition and exceeded this with some fantastic squash. Jan Van Den Herrewegen returned to defend his title with club no 1 Jaymie Haycocks determined to win the title. International representation included Wales (David Haley and Owain Taylor), Malaysian (Mohd Syafiq Kamal), Brazil (Vini Rodrigues), New Zealand (Ben Grindrod) and Belgium (Jan Van Den Herrewegen).
Club chairman Tony McAllister and sponsor Ollie Fincher present Jan his 2nd Sutton Coldfield International Award
Unseeded victories in Round 1 included Andrew Birks who beat Elliot Selby and Vini Rodrigues who beat Ben Coates. The quarter finals would see strong and convincing wins for Jaymie Haycocks, Michael Harris and Mohd Syafiq Kamal with a full 5 game battle between Ben Grindrod and Jan Van Den Herreweggen with a critical win for Jan in the second game 12-10 allowing him to take the match. A strong performance from Jan and a club upset seeing Michael Harris beat Jaymie Haycocks 3-0 would set up a final between Michael and Jan.
Tony McAllister with Runner Up Michael Harris
The final presented an exciting, nail biting end to end battle with Michael Harris winning the first 2 games 11-8 and 11-9. Jan geared up and had the edge with stamina to take the following games 11-6, 11-8 and 11-4 to claim his 2nd Sutton Coldfield International title. Jan celebrated his well earned victory with his growing club member following in the bar.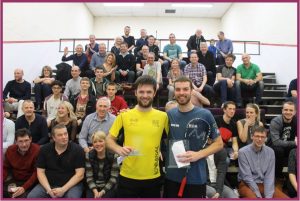 A full house watched the PSA 2016 Final
2015 1st Sutton Coldfield International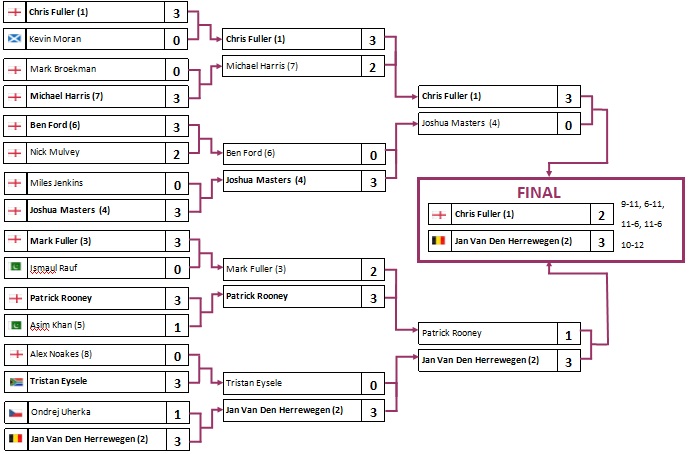 Following the clubs refurbishment the dream and ambition to host a PSA competition became a reality with kind and generous support from Ollie Fincher owner of local business Aston & Fincher. Club coach Chris Hall managed the tournament and the excitement and anticipation grew for the inaugural Sutton Coldfield $5000 International PSA competition.
Club coach and tournament manager Chris Hall and sponsor Ollie Fincher present to tournament winner Jan Van Den Herrewegen
The tournament included international representation from Pakistan (Ismaul Rauf & Asim Khan), South Africa (Tristan Eysele), Czech Republic (Ondrej Uherka) and Belgium (Jan Van Den Herrewegen) with some of the top seeds in the World top 100 ranking.
Runner up Chris Fuller, coach Chris Hall and sponsor Ollie Fincher
The club and members were treated to a weeks worth of top quality squash including a surprise victory from Tristan Eysele over seeded Alex Noakes and also up and coming Patrick Rooney over Asim Khan. Semi finals produced close games for Chris Fuller and Mark Fuller with number one seed Chris beating Michael Harris narrowly 11-9 in the quarters and unseeded Patrick Rooney beating Mark Fuller a key game being the second winning 12-10.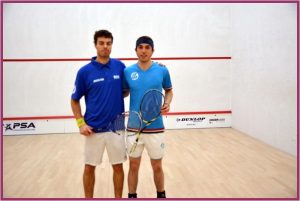 Jan and Chris battled to a thrilling 10-10 tie breaker in the final game
Members witnessed a fantastic final with Jan Van Den Herrewegen taking the first two games. Chris Fuller fought back comfortably winning the next 2 to produce an excellent final game. The final game was a real treat with world class quash from Chris and Jan. At 10-10, Jan was able to produce the winning points to confirm his place as tournament winner.