After a lot of research, analysis and discussion, I am now in a position to confirm the forthcoming year's fees. The ongoing war in Ukraine coupled with having to move to a significantly higher gas and electric tariff from April 2023 will result in us having to find an additional £20k (£11k to £31k). The Club will subsidise 30% of the increase as a one-off measure and the Committee unanimously agreed to raise membership and club nights' fees whilst keeping court/light fees the same to fund the remaining 70%. An Energy Sub-Committee has been formed to specifically analyse our energy consumption and identify solutions to reduce it, e.g. installing better insulation etc.
The new annual membership fees are shown below, and we are offering a new monthly direct debit payment option for members wishing to spread their annual membership over twelve months. Please understand that members paying monthly are committing to a full year's membership.
| | | | |
| --- | --- | --- | --- |
| Category | 2023/24 Annual Fee |   | 2023/24 Monthly Fee |
| Full Member | £380.00 |   | £35.00 |
| Veteran Member (65+ on 01/04/2023) | £260.00 |   | £24.00 |
| Young Member (19-24 on 01/04/2023) | £260.00 |   | £24.00 |
| Day Member (Play up to 1630 hrs) | £260.00 |   | £24.00 |
| Student Member (in full time education) | £160.00 |   | £15.00 |
| Leisure Member (no court access) | £125.00 |   | £11.50 |
| Junior Member (<19 on 01/04/2023 & in full-time education) | £80.00 |   | £7.50 |
| Social Member (no courts, sauna or gym use) | £70.00 |   | N/A |
| Three Month Triallist | £100.00 |   | N/A |
Discounts shall continue to be offered for family membership:
Family Discount: £15 discount on membership for a member playing with another close family member, e.g. parent of a child; or
§  Up to two Junior Memberships: For two full members up to two junior memberships are free.
Monthly pro-rata discounts for families are available by request.
The Club will incur additional charges and administration fees where members opt to pay monthly, and these extra costs have been factored into the above fees. I understand that 2023/24's fees have increased significantly but it is worthy of note, that we have not increased membership fees since 2016/17 due to the good work of the Committee in acquiring sponsorship, advertising and the introduction of the 75 Club to financially support the club. When making this difficult decision, the Committee was mindful that if the Club had increased membership by 3% every year since 2016/17, the current annual Full Member fee would be approximately £365.
The Club encourages all members to pay their 2023/24 membership in full by the start of the year, 1 April 2023, and members can pay via BACS transfer, cheque or cash.
Finally, I would like to take this opportunity to confirm that transitioning to the MyCourts booking system has not impacted 2023/24's membership fees. The Club successfully budgeted for the move to MyCourts, and its day-to-day running costs are similar to the previous system, Sports Booker, i.e. the increase in membership and club night fees is solely due to the energy crisis.
Thank you all for your understanding in these uncertain times and further communication will be sent shortly detailing how to pay your annual membership. I look forward to continuing seeing you on court.
Kind regards,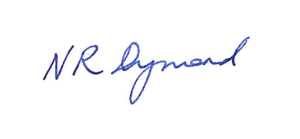 Nick Dymond
Chairman of Sutton Coldfield Squash & Rackets Club