4th Aston & Fincher Sutton Coldfield International 2018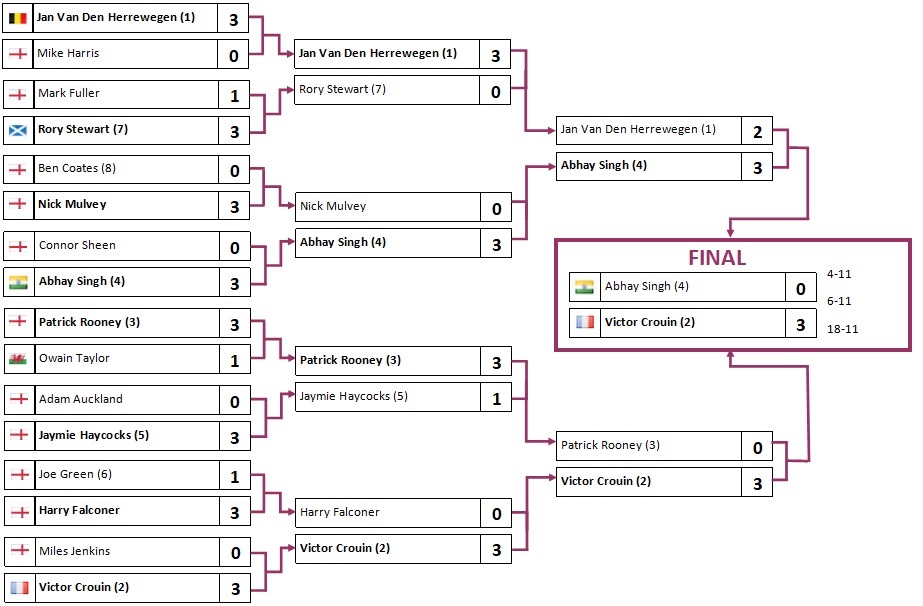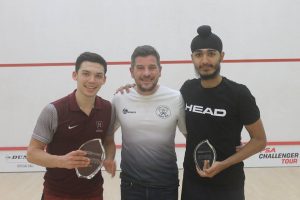 Winner Victor Crouin with Runner Up Abhay Singh presented trophies by sponsor Ollie Fincher
The 4th Aston & Fincher Sutton Coldfield International would see some exciting new players join the competition and also a break in the form of reigning 3 times champion Jan Van Den Herrewegen.
Early round wins for Nick Mulvey and Harry Falconer knocked out seeded opponents convincingly with strong expected performances in the quarter finals which unfortunately saw club number 1 Jaymie Haycocks knocked out by regular Sutton International player Patrick Rooney.
We were treated to a fantastic semi-final between Jan Van Den Herrewegen and new entrant Abhay Singh. Jan took the first game 12-10 but over the thrilling 5 game match, Abhay played the better squash with pace and enthusiasm breaking the 3 time Sutton champs run of our good friend who still joined us for the finals and after tournament celebrations.
Equally exciting was the strong pacey performance of new entrant Victor Crouin played some excellent squash against Patrick Rooney with the 2nd game stretching out to an exciting 12-14 finish for Victor.
The final had some awesome squash from both players but it was the pace and attacking style from Victor which dominated the final and awarded the Frenchman Victor Crouin his well deserved 4th Sutton Coldfield International title. Another brilliant year of squash enjoyed by all players and guests.