SCROLL DOWN FOR SHOW COURT VIDEOS
The fourth Aston & Fincher Sutton Coldfield International Squash Tournament
Victor Crouin (2) beat Abhay Singh (4) 11-4, 11-6, 11-8 (54 mins)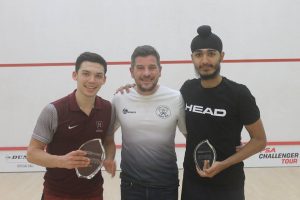 A fitting finale to what has been another fantastic week at Sutton Coldfield Squash Club. A packed show court provided an electric atmosphere and the match itself certainly didn't disappoint.
54 minutes for three games should show exactly how competitive this match was, two exceptional movers battling it out and throwing all they could at each other. As has been his trademark this week Victor was firing in the boast to great effect but just when it looked like he had the rally won, Abhay would not only get to the ball but somehow manage to counter beautifully. There were at least 3 or 4 cross court drops into the nick from Singh when it looked like he wouldn't even get the ball back. Crouin just about had more control of the play, volleying at every opportunity and using great variety to try and outmanoeuvre his opponent.
The crowd tried to get behind Singh in the third, desperate for another game but in the end Victor had enough to close it out in straight games for a deserved win.
Both players spoke with great respect for the other after the match, with Victor also keen to recognise the support of his father throughout his career so far. It is certain that these youngsters have a bright future within the game.
Many thanks must go to our sponsor Aston and Fincher (Oliver Fincher) who once again have supported the event and do so much for the club. Thanks also to the organising committee – Chris Hall, Pete Oddy, Tony McAllister and Mat Stevens. And last but not least our referees during the week – Tim Osgerby, Pete Oddy, Marcus Hayes, Guido Le Lorrain and Mo Sarwar.
Final Introduction
1st Game
2nd Game
3rd Game
Prize Giving
Final Highlights
 Semi Finals – Friday 23rd November 
Watch our special Semi Finals Highlights
 Abhay Singh (4) bt Jan Van Den Herrewegen (1)
Victor Crouin (2) vs Patrick Rooney (3)
Quarter Finals – Thursday 22nd November
Jan Van Den Herrewegen (1) beat Rory Stewart (7): 3-0 11-9, 11-8, 11-4
Abhay Singh (4) beat Nick Mulvey: 3-0 11-8, 11-8, 11-9
Patrick Rooney (3) beat Jaymie Haycocks (5): 3-1 13-11, 6-11, 11-6, 11-4

Victor Crouin (2) beat Harry Falconer 3-0 11-5, 11-5, 11-7
Round 2 
Rory Stewart SCO (7) bt Mark Fuller ENG 3-1  11-9, 11-8, 3-11, 11-5
Nick Mulvey ENG bt Ben Coates (8) ENG 3-0 11-5, 11-7, 11-2
Patrick Rooney (3) ENG bt Owain Taylor WAL  3-1 11-5, 4-11, 11-6, 11-4
Harry Falconer ENG bt Joe Green ENG (6) 3-1 11-5, 11-8, 6-11, 11-8
Jan Van Den Herrewegen BEL (1) bt Michael Harris ENG 3-0 14-12, 11-4, 12-10
 Abhay Singh IND (4) bt Connor Sheen ENG 3-0 11-9, 11-2, 11-9
 Jaymie Haycocks ENG (5) bt Adam Auckland ENG 3-0 11-3, 11-2, 11-3
 Victor Crouin FRA (2) bt Miles Jenkins ENG 3-0 11-6, 11-4, 11-7
There is a good balance of international, national and locally based professionals in what is a very strong draw. The popular Jan Van Den Herrewegen returns to defend his title and is the number 1 seed. The talented and rising Frenchman Victor Cruin is the number 2 seed and will give a strong challenge. Local favourite Jaymie Haycocks (5 seed) is playing again and is joined by Josh Owen from Sutton. Patrick Rooney, always popular with the Sutton crowd returns as 3rd seed, and Mike Harris, a past finalist also is back at the Highbridge Road club.
The organisers have been keen to support local and emerging talent and were delighted to offer wildcards to Birmingham pro Jack Turney and the very exciting junior Sam Todd. Sam is a serious talent and it will not be long before he is gracing courts even more hallowed than those of Sutton!
As always, and as seen by how many pros return each year, Sutton will be putting on the warmest of welcomes to both players and spectators. The main court has bleacher seating giving great viewing for up to 70 people and the second court has a glass back and upstairs balcony. The bar will of course be open throughout the tournament and there will be a social on Wednesday 21st November as it is the busiest evening of play.
All are welcome, and entry is free all week to what is becoming a firm favourite on the local and national squash calendar.
Check back on the website for show court videos
Round 1 
Mark Fuller beat Rohan Madil 3-0 11-5, 11-4, 11-5
Nick Mulvey beat Anthony Rogal 3-0 11-9, 11-2, 11-6
Adam Auckland beat Chua Man Chin 3-0 11-9, 12-10, 11-5
Miles Jenkins beat Curtis Malik 3-0 11-9, 11-9, 11-3
Michael Harris beat Sam Todd 3-1 11-8, 11-5, 7-11, 11-8
Connor Sheen beat Ben Ford 3-1 15-13, 8-11, 11-7, 11-5
Owain Taylor beat Josh Owen 3-1 11-3, 7-11, 11-5, 11-5
Harry Falconer beat Jack Turney 3-0 11-9, 11-7, 11-3