We are delighted that club coach Chris Hall was not only one of the 3 finalists at the Sutton Coldfield Sports Awards 2017 but won the final award at a prestigious awards ceremony on Friday 26th January.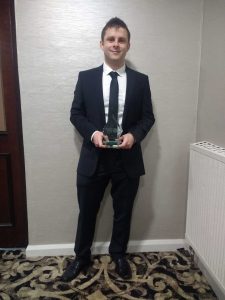 Chris was nominated for the following key achievements at the club
1. Junior Squash development at Sutton Coldfield Squash Club including full group programmes across various ages and abilities plus a group for increasing squash participation from girls.
2. Raising profile of the club by running junior squash competitions within the England Squash framework and taking a lead in running the third Sutton Coldfield $5000 PSA competition during November 2017.
3. His commitment to coaching at the very highest elite level. Chris commenced England Squash High Performance Award (Level 4) in 2017. Due to graduate in 2018.
4. Acting as a key first contact point for external squash enquiries at a local level and lead contributor for Warwickshire Squash Website.
The nomination was lead by Dave Mullis and supported by the Sutton Coldfield Squash Club Committee and the current Chair of Warwickshire Junior Squash.
Chris has been absolutely central to developing a comprehensive programme of coaching activities for all ages and all abilities, from beginners to those performing at County and National level.
It is during 2017 that Chris' commitment has really paid off and the local club in Sutton Coldfield is benefiting from the performance success of its players and attracting new participants into the sport. For example, during this year's Warwickshire Squash League, the Sutton Coldfield Mens 1st Team secured top spot in Division 1 (with Chris playing).
When we asked Jackie Bulman (Junior Warwickshire Squash Chair) for a summary regarding Chris, the one statement that really stands out is; 'the Warwickshire Juniors all respond really well to Chris'. This is a sentiment that is echoed on a local level at Sutton Coldfield Squash Club. Chris has responsibility for running Junior squash groups aimed at the youngest beginners to juniors playing in Warwickshire teams from the youngest Under 11's through to the U19's.
Chris has encouraged a few of the older juniors to complete a level 1 coaching course and they are now themselves contributing to the coaching programme, including a group specifically focused on encouraging girls into the sport.
Chris has raised the profile of the club during 2017 by running Nationally recognised competitions. This has included a well-attended 'Bronze' Junior event in conjunction with Fours Oaks Club and in November 2017 a 'Copper' Junior event at the Sutton club. The pinnacle of high profile events has been running a $5000 PSA adult mens competition during November 2017. This event attracted some professional players ranked in the world top hundred.
Chris was critically instrumental in providing the organisation to make this event happen, drawing in good crowds from the initial qualifying games to the final.
Chris holds a Level 3 England Squash coaching qualification (Talent Development Award). He commenced the Level 4 England Squash High Performance Award in 2017. This is a post graduate diploma in personal and professional development, learning advanced training methods in coaching elite squash. Chris is due to graduate in 2018. Chris has worked over the last 2 years with Jason Pike (coach at Leamington Squash Club) to run the Regional Junior Programme, which includes the West Midlands Regional Championships.
He has also worked with other Warwickshire coaches to deliver a coaching weekend for juniors aiming to play for the County Team as well as selection for the 'Aspire' elite programme.
Chris is the key first contact point for external squash enquiries. He is a superb ambassador for Sutton Coldfield Squash Club. His involvement has directly led to attracting new members and promoting the various Club Night Events (eg. Ladies Night and the very popular Sunday Club Night) that take place throughout the week.
Chris is the lead contributor to the Warwickshire Squash website. Since taking over the lead 'editor' role he has made it more informative and useful across the county. Chris manages the Warwickshire County Social media 'presence' through an informative Facebook page. His posts cover county activities as well as information about County player/team success for both senior and junior players.
Squash has for a number of years been working on a re-introduction into the Olympic Games. It is the drive and determination from coaches such as Chris at the ground roots level that aims to enhance the profile of the sport both for players who wish to reach the highest levels and most importantly for others who simply wish to get fit and participate in a fantastic sport.
We are grateful for the contribution Chris makes at club, county and as an excellent overall ambassador for the sport.
Well done Chris, we all think you very much deserve the award and recognition for the fantastic work you do for the club and sport.